ORDER

Home > Procedures > Transseptal Puncture and Access
Transseptal Puncture and Access


Originally developed for assessing intracardiac hemodynamics, transseptal puncture is employed by electrophysiologists to gain access to the left atrium and ventricle for procedures such as RF ablation and mitral valvuloplasty. With the introduction of the SafeSept line of transseptal guidewires, Pressure Products enables access to the left atrium with improved safety while requiring less penetrative force during the procedure.
Transseptal Puncture with 0.014 in. Diameter Guidewire Deployed through Transseptal Needle
SafeSept Transseptal Guidewire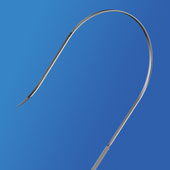 SAFESEPT TRANSSEPTAL GUIDEWIRE INSTRUCTIONAL VIDEO
SafeSept Transseptal Guidewire is specifically designed to improve safety during transseptal puncture.
*Calculated from average transseptal needle and transseptal guidewire puncture forces during in vitro design qualification testing.
Copyright © 2022 Pressure Products Medical Supplies, Inc. All rights reserved.