For immobilization of the groin and femoral arterial puncture site during prolonged procedures or when arterial sheaths are left indwelling.
The HEMobilizer® device is designed to immobilize the groin and femoral area following femoral arterial puncture or when femoral arterial sheaths are to be left in place for extended periods of time.
The device principle is simple. By immobilizing the knee and precluding both flexion (by means of the HEMobilizer 'stays') as well as medial and lateral motion (by means of the straps) significant motion at the catheterization site is eliminated.
HEMobilizer is particularly well suited for situations where prolonged bleeding times and/or procedures are expected.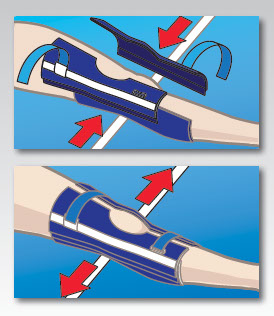 Worldwide Patent pending. HEMobilizer is a registered trademark of Pressure Products Medical Supplies, Inc.
Each HEMobilizer device kit includes:
​

One HEMobilizer
​

Ten (10) kits per box